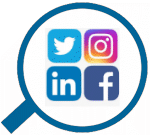 Social Media Consulting

So you have a blog, facebook fan page and a twitter account. But is it well optimized? Clear Stage will work with you to sync all three accounts so that when you update one, you'll update them all. Why spend the time to add fresh content to one stream when it requires adding new posts to the other areas.
Clear Stage will do the heavy lifting to ensure some ease in your social networking process. We'll show you how to connect all your external content so that when you input it once, that's all you'll have to so.
Are you reaching the most possible people via your social media accounts?
The majority of companies think they have all their social networking covered. But in reality, they are spending more of their time and resources on it than they need and not receiving all the benefits that social networking exposure can give. Clear Stage will relieve that problem.