Product Listing Ads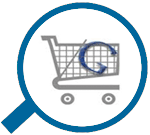 If you are selling a product online and not using Google PLAs, you are at a serious disadvantage. Gone are the days where an online vendor could rely solely on PPC and SEO. Now, in any search for a product, you will find virtually all of the traditional "PPC" spots occupied by Google Product Listing Ads.
Below is an example result from a search using the keywords "buy mens shoes". In this particular search, there are (8) PLA results and (0) PPC listings.
Our Product Listing Ad services include:



Keyword Research: using our detailed analysis tools, we target effective keyword phrases that will bring cost efficient traffic to your site via PLAs.

Ad Review: Since PLAs remove the need to write effective copy, instead placing just an image of the product along with the price information. We will work with you to ensure you have the ideal images to be used for PLA creation.

Landing Page Analysis: Are your search engine visitors entering your site on the best possible landing pages? Quite often, that is not the case. We will help create landing pages unique to the keyword the user came in on to increase the likelihood of a qualified conversion.

ROI Based Bidding Strategies: In addition to working to promote the branding initiatives of your search engine campaigns, Clear Stage will use our bidding techniques to assure that your bids for individual keywords are based solely on that keywords ROI. We will work with you to include other factors such as advertising revenue on landing pages for given keywords to ensure that your campaigns are reaching their ROI potentials.

What Else Will You Get From Clear Stage?


24 Hour A Day Monitoring


ROI & ROS Reports


Daily Landing Page Reviews


Systematic Keyword Bidding